Home

/

JIGSAW ZEBRA 15X15CM
JIGSAW ZEBRA 15X15CM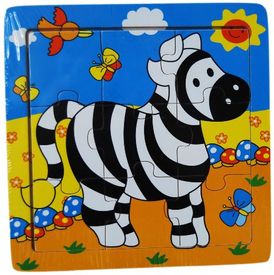 Description
Are you looking for wholesale wooden jigsaws to stock at your store? Our Jigsaw Zebra puzzle is a great choice. This 15x15 cm puzzle is a bright and colourful to attract toddlers and children.
The puzzle is easy to assemble, so even the youngest children can feel confident as they complete it. Building puzzles like this one helps young children develop motor skills and dexterity while also learning about basic analytical skills and logical thinking.
Benefits of Our Wholesale Wooden Jigsaws
Like our other wholesale wooden jigsaws, the jigsaw zebra puzzle comes in a pack of 100. That way, you can easily sell a large number of puzzles in your store. You could also sell the puzzle for fundraisers or charities.
This zebra puzzle is designed and manufactured in Australia by our Australian-owned company. We are able to ship this product anywhere throughout the country and even overseas. Since our beginning in 1980, we've pleased store owners around the globe with popular products that sell quickly.
The zebra puzzle is perfect for children ages one and older. It will surely attract the attention of parents, grandparents and anyone else who comes to your store looking for quality toys. Order our zebra puzzle today!
Additional Information
Height:

15

Carton QTY:

100